Tim Alan Smith clients come to us because they want their videographer to be an unobtrusive presence on their wedding day. They also want a final edit that is not loaded with special effects. They appreciate the understated, photojournalistic nature of our work. This style results in an edited video that is not overly dramatic, but instead is an accurate representation of the natural feel of the day.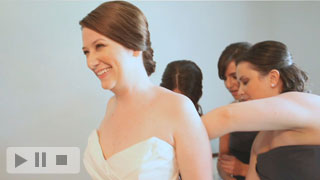 The final film takes all the great scenes of the day and streamlines them into a 30-minute finished piece. The film is structured with a narrative style that pulls the viewer from one shot to the next, moving the story of your wedding day along like a real movie. The goal of our edit is to make watching your wedding feel like you are experiencing the day again. This is important because if it's not edited in a style that suits you, you will feel disconnected as you watch the people and events from your wedding day.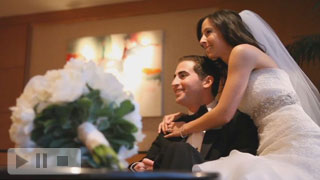 At Tim Alan Smith, we understand that excessive lighting is a big concern for our clients. To that end, we discuss with you in detail lighting options based on your concerns BEFORE the wedding day. If we determine we can shoot without light, we can film the entire day with natural light only. Ask to see a 'no light' video when you come in for a consultation to determine if you like the look we achieve. When we do use lighting, we never set up light stands around the reception, but instead use a small light on top of the camera.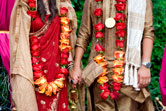 We are consistently praised for being discreet while still managing to capture the essence of the day. The way in which we achieve this is through a combination of our photojournalistic eye for detail and our skilled use of wedding day audio. Audio is the reason video is such an indispensable part of your wedding day needs. While the photographer and videographer capture many of the same images, the audio is the part of the day that the photographs won't bring back.
The four most important parts of the day for audio are the pre-ceremony footage of the bride and groom getting ready, the ceremony/vows, toasts at the reception and outtakes. Each of these segments are carefully documented and then artfully used in the edit to help bring back a flood of wedding day memories. Many Tim Alan Smith couples feel that hearing this audio while watching their completed wedding video is their most treasured remembrance and most valuable documentation and heirloom of the day.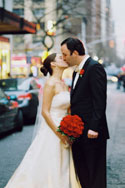 Tim Alan Smith now exclusively films with HD DSLR cameras that produce an HD image that rivals feature films. Our cameras and lenses are now the same ones that your photographer uses. These cameras not only are much better than traditional video cameras but also bring our ability to be discreet to a different level. Guests now assume we are photographers, and don't realize we are actually filming. This allows for a higher comfort level for both you and your guests and ultimately a more natural finished video. In addition to the DSLR cameras, vintage Super 8 cameras and black & cameras and black & white camera work can also be incorporated on the wedding day to create a timeless look and feel.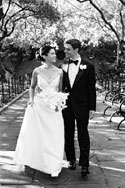 Other popular services Tim Alan Smith provides include childhood & dating slideshows, destination wedding coverage, a Super 8 engagement shoot with NYC as the backdrop, a wedding-day time lapse video, a montage of your honeymoon photos and a video recap within a week of your wedding at Tim Alan Smith blog, WeddingFilmsNYC.com.
Please call us at (212) 706-8904 today to arrange a meeting so that we can show you a full DVD and answer any questions you may have.